---
A special young lady needs your help: Click for more information
---
* Click For My Playlist
* My Playlist 2
* That 70s Playlist
---
---
The Most Beautiful Song Ever
---
---
---
---
---
---
---

Featuring An All Star Cast!
- Guitar Haven
blues brutha's hang out
.
- Baked Chunk
- BlueMoon Cafe
- Not To Scale
- Greg's Writings / Photos
- Doctor Doug
- AbbyNormal
- Ginger's Dish
- Angels Nest
- Husbands Anon
- Herb Thiel
- Bellavita
- Rob & Pen
- Terri Terri Quite Contrary
- Parisian - our French friend and buddy
- Ms. Marti
- Angela McCaskill's Cafe
- The 101 Corridor
- Appalachian History
An awesome blog with a plethera of facinating information.
---
---
Shaloam Israel
- Words You Don't Know
- Jerusalem
- Hapshepsut
- A Jewish Perspective
- Only In Israel
- Israel Midnight Cafe
---
---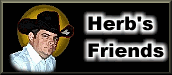 Herb and Friends spill their guts...
and you have to clean it up!
---
---
They had the power to bring change...
too bad it was just for a buck-fourty-nine
---
---
MY WISH LIST
Yes, you can buy my silence or just get me something because you've enjoyed my blog content and feel guilty for reading it for free. You can even buy me something if you hate my blog - your punishment in this way is more than I can stand. Or, you can just look through and wish along with me.
---
---
Thursday, May 26, 2005
Actually its called, "
Ten Things I've Never Done
". I was hit in a Driveby Tagging, the culprit being,
Sharkbait
. So I will now do this and Tag the crap out of someone else - so all vistors BEWARE! Muahahahahaaaa!!!
1) Eaten Sushi
2) Been to Spain
3) Dated Star Trek Enterprise hot chick,
Jolene Blalock (contrary to popular belief)
4) Read, War and Peace
7) Appreciate Dr. Phil's lack of intelligence (yes I am superior - AND - I have hair! No offence to Scott who is far better looking without hair than I am anyday of the week with hair, and I "am" aweful purty folks.)
8) Been wealthy
9) Seen a beach
I know some of you are thinking I am obsessed with,
Jolene Blalock
, but thats not quite true. You see, SHE, is obsessed with me, which is evident by the way she forcefully keeps invading my thoughts. And seeing how "forward" she is like that, I've not much tolerance for forward women. Unless of course they ask me out or something first.
You can only be exempt if you've already been tagged for this by someone else, or should you refuse to do it under a blood oath. - because quite frankly I dont know where you live to do anything about such refusals.
Posted at 09:49 pm - Scribbled out by
Daveman
the Cool
Toaod


May 27, 2005 06:16 PM PDT



1. Been to Canada.
2. Seen a Broadway Musical.
3. Killed an animal.
4.Written a song.
5. Surfed.
6. Played a sport on an organized team.
7. Lived on my own.
8. Been in a fight.
9. Participated in a play that I have regretted.
10. Been able to finish an online list.

AbbyNormal


May 27, 2005 10:33 AM PDT



I'VE seen a beach and I never been anywheres! (does that make sense?)

Maybe we should contact Jolene's agent and fix you guys up with a date on the beach over sushi and fried mars bars.
Judy


May 27, 2005 09:46 AM PDT



Had my first taste of sushi on a cruise ship. Was mighty tasty, or maybe that was the alcohol talking (and tasting)...
Sharkbait


May 27, 2005 09:15 AM PDT



Fried Mars Bars!!! Cook it with butter & yumgumslum sauce!! It Bloody rocks!!!!!
Daveman


May 27, 2005 08:27 AM PDT



-SCOTT-
I didn mention yer Intelligence level cause, uhm, I dont need the compet.. compa.. Uhm.. someone else chasin' after the same bottle of Cherry flavored Geritol as me.. (?)

-SSPRITE-
Forget the beach, I want them depends! WhooHoo! ;-)

-CHRISTEL-
Actually I have seen a beach. My ex-wife Cujo., but then we're not talking about proper spellin' here... are i? ;-)
Christel


May 27, 2005 07:39 AM PDT



You never seen a beach?
ssprite


May 27, 2005 05:12 AM PDT



"9) Seen a beach"

i CAN solve that one for you - come visit ;) hehehehe

(you can borrow my box of depeds when your here)
scott


May 27, 2005 12:59 AM PDT



It is a terrible burden being beautiful. Hey! you forgot ta mention my intellygends, insellidecenc, my interligems...cleverness! I guess under the influence of Geritol, everyone starts to look pretty, right Daveman?
---