Saturated Fats - Your Friend
My computer whoas inexplicably stopped whoa-ing me. But sound problems do abound. I got a new sound card, a great card for the money BUT doesnt do what I thought it would do, and that wont do.
But thanks to my best buddy I'll be getting a new card soon. Im pretty sure I'll be floating on air and tormenting people with my singing once again. What did anyone do to deserve this? Nothing really, I just love to dole it out.
Oh - if one of you were like crazy and stinking filthy rich, you could shut me up by getting me my very own life size Lost in Space B-9 Robot - LoL. I saw this and thought that was pretty cool (click to see info).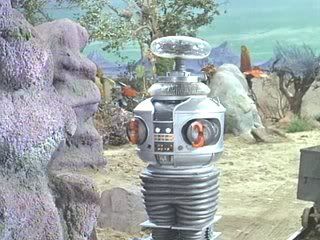 With technology the way it is today - a robot like Will Robinson's would be easier to construct for some tech-head. The Claw hands though are not practical at all. Except maybe to pinch someone's butt. One expression left out of the robot's repetoire of words..., "Danger Will Robinson! Danger! Run or I will pinch your Butt"
Isnt it cool for a mere $24,000 you could have your own life size do nothing but spin and make sounds by remote control robot? Sure thang! LoL
Posted at 11:07 am - Scribbled out by
Daveman
the Cool
Herb


January 20, 2009 05:49 AM PST



I want one too! PLLEEEEEEEZZZE??
Judy


January 18, 2009 09:01 PM PST



If we get another stimulus check, maybe I'll look into this...
LauraBelle


January 18, 2009 04:11 PM PST



Well, I suppose THAT robot would probably do in a pinch ...
---