---
A special young lady needs your help: Click for more information
---
* Click For My Playlist
* My Playlist 2
* That 70s Playlist
---
---
The Most Beautiful Song Ever
---
---
---
---
---
---
---

Featuring An All Star Cast!
- Guitar Haven
blues brutha's hang out
.
- Baked Chunk
- BlueMoon Cafe
- Not To Scale
- Greg's Writings / Photos
- Doctor Doug
- AbbyNormal
- Ginger's Dish
- Angels Nest
- Husbands Anon
- Herb Thiel
- Bellavita
- Rob & Pen
- Terri Terri Quite Contrary
- Parisian - our French friend and buddy
- Ms. Marti
- Angela McCaskill's Cafe
- The 101 Corridor
- Appalachian History
An awesome blog with a plethera of facinating information.
---
---
Shaloam Israel
- Words You Don't Know
- Jerusalem
- Hapshepsut
- A Jewish Perspective
- Only In Israel
- Israel Midnight Cafe
---
---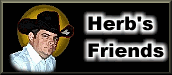 Herb and Friends spill their guts...
and you have to clean it up!
---
---
They had the power to bring change...
too bad it was just for a buck-fourty-nine
---
---
MY WISH LIST
Yes, you can buy my silence or just get me something because you've enjoyed my blog content and feel guilty for reading it for free. You can even buy me something if you hate my blog - your punishment in this way is more than I can stand. Or, you can just look through and wish along with me.
---
---
Thursday, October 04, 2007
Lisa Norton , sings quite a few top notch songs, and really its hard to pick one to plaster on my walls. I opted for this one because I like the song, the way she sings it and the Oh So Cool Video presentation! YEAH! She so rawks! She's also one of my lady buddies.
Don't forget to vote for her in the current contest! If any of you's mugs
are into karoake.., you might want to check into may latest "Singing Down The House" contest on my BIX page. You don't gave to be a quality
singer - just enter and have fun. The winner of course gets
featured here on my fabulous blog. And who wouldnt appreciate
that! Its better than being in love! (almost).
Posted at 08:07 am - Scribbled out by
Daveman
the Cool
-Alternate Reality Speak-
---
Wednesday, October 03, 2007
It Happened Just This Way!
Well its like this.., there was this and that .., then there was this other thing and like it totally blowed me away! Well.., it didn't actually blow me away or I would be dead or something so I wasn't literally blowed away.
So anyway that, like, really happened! I can tell by the expressions on your faces you are as horrified by the whole thing as I am. But, like, its the truth and for real even! Would I lie about a thing like that? I THINK NAWT!
And so.., just be careful out there because you never know when like, this or that will happen around or even to you. It was like sooo freaking scary, maaaaan. Like waaay so. I'm sorry if, like the graphic nature of it all, like scared you or traumatized you in anyway, but really, like.., it had to be said.
Posted at 02:52 pm - Scribbled out by
Daveman
the Cool
-Alternate Reality Speak-
---
Tuesday, October 02, 2007
So there I was sitting in 7th grade class in the 70s, then BAM! Its 2007 of the 21st Century, I'm an old geezer chasing kids out of the yard with my cane, calling them hippies and telling them to "git a job!". Anyway - In keeping up with Abby - I'm posting my School Photo. Hah! And some people say I never had any class.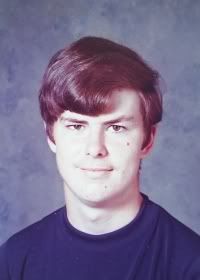 before my long hair experience - scary or what!
And now.., remember that pic of the critter I told you I was going to post? Well, you just got through looking at it. But while I'm showing pictures.., here's one of a little feller what was crawling across the yard the other day.., he's just a wittle baby..., sittin' on me fly-swat.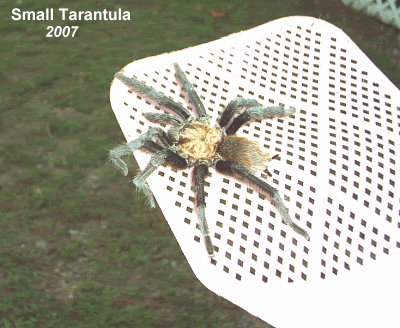 No - I didn't kill the little darlin'..., I set him free. Now had he been
in my bed or in the house period - he'd of been dead with no
remorse on my part, I can honestly reassure you.
Posted at 07:31 am - Scribbled out by
Daveman
the Cool
-Alternate Reality Speak-
---
Sunday, September 30, 2007
THE FOLLOWING PEOPLE ARE MISSING FROM BLOGDRIVE!
We fear a mass alien abduction may have taken place, although some have foolishly suggested they are taking a break or <<shivers>> have found that there really is life outside the box (computer, internet, blogging, etc).., like I said; sheer nonsense.
BAKED CHUNK: Yes, Kevin the One-Armed-Boy man.., has been gone waaaay to long. He must return at least for a single update to get me off his back, if for nothing else. His wit is not to be challenged. The last one to do so lost an ear. It took me a month to find the right bonding agent to re-attach it. Gorilla Glue! don't leave home without it!
HUSBANDS ANON: Another dear friend, Scott, has pulled a Daveman stunt as well. C'mon. It takes one to know one. He's just a bald skinnier version of me. Scott is just like me in fact except for, he's married, has two sweet children, dresses different, lives in South Africa which is almost kinda like being in Arkansas except different. Okay - maybe he's not like me, but we miss the dude. Come back home!
BLUE MOON CAFÉ: Pops is a man full of wisdom and orneriness. He has been my mentor on the fine art of Grandpawing 101. The antics of his grandkiddies has kept me laughing off my whazoo. Okay - he hasn't been gone as long as the others and reports in when he can.., and while I'm not rushing Pops, we do like those updates.
There are others missing, perhaps.., but right now this is all I have time to report on. So if you see these people wandering around your neck of the woods - put a bug in their ears. NO! REALLY! Put a bug in their ear and maybe they'll think twice about deserting their blogs again.
Posted at 05:34 pm - Scribbled out by
Daveman
the Cool
-Alternate Reality Speak-
---
Last night ... he came in like he owned the place. I asked him what he thought he was doing, to which I got no reply. This brazen uninvited guest proceeded to walk around ignoring me as if I had not spoken or in the room.
I'm sorry folks. This made me so mad, I killed him where he stood.., with my shoe no less! I stepped on the freak and made him die, die, die. Muahahahahaahaa..
It was a brown scorpion, a baby about ¾" to an inch long. Fist centipedes, now scorpions. Oh - that reminds me.., I'll be posting a pic of another creature what traverses our land. Assuming I don't forget it. Do feel free to remind me.
Posted at 09:16 am - Scribbled out by
Daveman
the Cool
-Alternate Reality Speak-
---