---
A special young lady needs your help: Click for more information
---
* Click For My Playlist
* My Playlist 2
* That 70s Playlist
---
---
The Most Beautiful Song Ever
---
---
---
---
---
---
---

Featuring An All Star Cast!
- Guitar Haven
blues brutha's hang out
.
- Baked Chunk
- BlueMoon Cafe
- Not To Scale
- Greg's Writings / Photos
- Doctor Doug
- AbbyNormal
- Ginger's Dish
- Angels Nest
- Husbands Anon
- Herb Thiel
- Bellavita
- Rob & Pen
- Terri Terri Quite Contrary
- Parisian - our French friend and buddy
- Ms. Marti
- Angela McCaskill's Cafe
- The 101 Corridor
- Appalachian History
An awesome blog with a plethera of facinating information.
---
---
Shaloam Israel
- Words You Don't Know
- Jerusalem
- Hapshepsut
- A Jewish Perspective
- Only In Israel
- Israel Midnight Cafe
---
---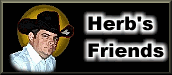 Herb and Friends spill their guts...
and you have to clean it up!
---
---
They had the power to bring change...
too bad it was just for a buck-fourty-nine
---
---
MY WISH LIST
Yes, you can buy my silence or just get me something because you've enjoyed my blog content and feel guilty for reading it for free. You can even buy me something if you hate my blog - your punishment in this way is more than I can stand. Or, you can just look through and wish along with me.
---
---
Saturday, October 06, 2007
Am taking a break today. Not one word will I write. Nope. Not gunna happen. I'll see you soon, barring earthquakes, tornadoes or an attack by killer Hamsters .., you know.., natural every day disasters that are beyond my control
Posted at 08:46 am - Scribbled out by
Daveman
the Cool
-Alternate Reality Speak-
---
Friday, October 05, 2007
The Most Beautiful Song In All The World
From the Rock Opera - "Phantom of the Paradise"
Composed/Written by Paul Williams, performed by Jessica Harper.
"Old Souls"

Old Souls (lyrics)
(FROM THE 20TH CENTURY FOX FILM "PHANTOM OF THE PARADISE")
(Lyrics & Music Paul Williams)
Our love is an old love
It's older than all our years
I have seen in strange young eyes
Familiar tears
We're old souls in a new life baby
They gave us a new life
To live and learn
Some time to touch old friends
And still return
Our paths have crossed and parted
This love affair was started
Long, long ago
This love survives the ages
In its story lives are pages
Fill them up, may ours tum slow
Our love is a strong love, baby
We give it all
And still receive
And so with empty arms
We must still believe
All souls last forever
So we need never fear goodbye
A kiss when I must go
No tears, in time, we kiss hello
Posted at 04:13 pm - Scribbled out by
Daveman
the Cool
-Alternate Reality Speak-
---
We Are The Sane, We are the Self Talkers
I say - its high time we stand up for the underdog. "People who talk to themselves"! They are NOT crazy, just sly foxes. Okay, stop reading that like it was a Steve Martin SNL line. Just stop it. It ruins the sincerity of it all.
People who talk to themselves do so because its the only true moment in time when they can engage in intelligent conversation, and whats so crazy about that? I ask you. NO! Don't answer..., thats a rhetorical question, it needs no answer. You are quite feisty today arent you? I mean, because it seems I am calling you down at every corner. Behave.
Ack!! Don't! Don't! Just putting you in check before I get started and you detract my attention once more. Smart people talk to themselves - and dumb people get jealous, having the talkers committed to state hospitals. No more! No more I say! Stand up for the people who talk to themselves - in fact I'm thinking about having a world benefit day complete with video and music recording.... "We aren't the stupid, we are the Smart". Kinda catchy eh?
Uhm.., I'm sorry. What are you people doing here so early for? I was still discussing plans with me. Could you come back in about ten minutes? Thank you.
AHEM - as I was saying.., so Dave.. what do you think about this idea stretching exercise? the whole save the crazies idea?
You're asking me? Well, I gotta be honest Dave. YOU ARE FREAKING, NUTS! I don't know about you, but I'm leaving with those folks you just chased off. They are way much more fun to be with.
Posted at 06:20 am - Scribbled out by
Daveman
the Cool
-Alternate Reality Speak-
---
Thursday, October 04, 2007
Lisa Norton , sings quite a few top notch songs, and really its hard to pick one to plaster on my walls. I opted for this one because I like the song, the way she sings it and the Oh So Cool Video presentation! YEAH! She so rawks! She's also one of my lady buddies.
Don't forget to vote for her in the current contest! If any of you's mugs
are into karoake.., you might want to check into may latest "Singing Down The House" contest on my BIX page. You don't gave to be a quality
singer - just enter and have fun. The winner of course gets
featured here on my fabulous blog. And who wouldnt appreciate
that! Its better than being in love! (almost).
Posted at 08:07 am - Scribbled out by
Daveman
the Cool
-Alternate Reality Speak-
---
Wednesday, October 03, 2007
It Happened Just This Way!
Well its like this.., there was this and that .., then there was this other thing and like it totally blowed me away! Well.., it didn't actually blow me away or I would be dead or something so I wasn't literally blowed away.
So anyway that, like, really happened! I can tell by the expressions on your faces you are as horrified by the whole thing as I am. But, like, its the truth and for real even! Would I lie about a thing like that? I THINK NAWT!
And so.., just be careful out there because you never know when like, this or that will happen around or even to you. It was like sooo freaking scary, maaaaan. Like waaay so. I'm sorry if, like the graphic nature of it all, like scared you or traumatized you in anyway, but really, like.., it had to be said.
Posted at 02:52 pm - Scribbled out by
Daveman
the Cool
-Alternate Reality Speak-
---