LADIES:
News! You might want to start going Au Natural for a while. NO! Don't start walking around nekkit. I'm talking about your make up - or at least part of it. It seems quite a bit of lip stick, even the popular brands contain lead, based on recent tests.
Click here for the full news article
.
Heeeere's Buddy!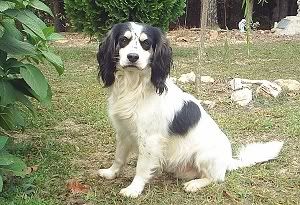 Let me introduce, Buddy, who also answers to the names, Cowboy, Buddy Wuddy, Bo Bo and perhaps a half dozen other names. He's a transient, that has been kind of adopted by a select few neighbors, but mainly haunts the place where I abode. Myself and baby brother (who's as big as a house) aka TVI..., pitched in with a local animal group to get poor buddy neutered. It seems the other neighbors while fond of Buddy, were not quite THAT fond of Buddy. He's a Border Collie mix. I can only guess they think a Border Collie is an illegal or something.
Yesterday I took him to have the deed done, and have to pick him up today. The trip down there left a feeling of sending poor Buddy to his execution. The conversation in the car went something like this..,
ME: Sorry dude. This hurts me more than it does you, but hey, this is the price you pay when you keep running after loose females.
HE: Dang! You are a cruel SOB! I cant help it! The ladies are so fine and I'm just providing a service.., ya know. And how is it going to hurt you worse than me? You freak!
ME: Yeah right. You knock up some girl K9s and how are you gunna pay child support, huh? You stupid dog. You don't even have a job to support any kids - heck, you don't even pay rent or utilities as it is. In this day and time, they will take you to court over this stuff.
HE: Oh, smart one - where am I going to get a job huh? Who's going to hire me? I'm a DOG! get with the program.
ME: You missed the point I'm making entirely. No job, and you out there making allot of babies while the poor mommy dogs are stuck with rearing the child dogs all by themselves. Thats just not showing responsibility at all.
HE: Poor mommy dogs? Lets get this right - they are Bitches. Not mommy dogs. Where'd you get your education? in a retard factory?
ME: I have you know my education is... HEY! Who's the one in charge here? You seem to forget who's driving and what your destination point is! If I were in your shoes I'd be doing some begging, MISTER!
HE: Well let me see. If I beg you right now, for mercy and all that, will you take me back home and forget about this whole ugly business at hand?
ME: Nope - your boys are history, dude.
HE: Then I'm not begging for no reason, no way, no how! Uhm..., after this thing is over, I wont be talking funny and have a tendency of wearing cheap red-light district dresses will I?
ME: No.., thats pure idiocy. But you will be walking funny for a while.
HE: Oh thats just great! The guys will be calling me names and insults and stuff. "Look! There's Stumpy!" or "Walking a little limp pawed aren't we?" or "Hey girl, you be lookin' fine" or worse.
ME: Well, well. Looks like we're here Buddy.
HE: Look, maybe we can cut a deal here. I'll leave the bitches alone and stay at home from now on. How's that?
ME: We tried this talk before and you broke your promise. We MUST do this. There are NO options. Got it?
HE: Oh God in heaven! Don't do this to me! I'll be good! I'll be a preacher dog or something, just lets not do this okay? Dude! Look into my eyes.., look deeply into my sad.., puppy eyes....., you are now under my power. You will turn this car around and head home. When we get there you will only remember we went for a short drive. You will forget about the whole snip-snip thing.
ME: Eh.., I don't think so Buddy. The Amazing Kreskin, you are not.
HE: Okay - lets do this, but after its over, I'd hide the scissors and sleep with one eye open at night if I were you, MISTER GELDING!
It should be interesting to see if Buddy now has a greater appreciation for things including my strong sound arguments and justifications for having him fixed. Excuse me now. I have to hide the scissors.