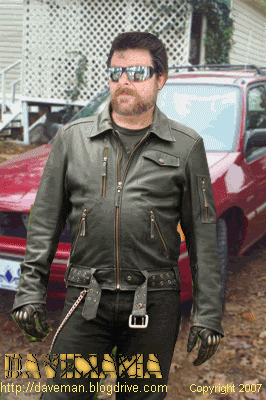 Its true. I am the coolest, baddest dude ever. In my mid-life crises, I spared no expense on genuine imitation leather jacket and chaps - without the chaps, and my hog is a top of the line Fisher Price trike, fully loaded, baby.
So I tooled down town yesterday just to show off when I ran into this biker gang, what thought they were all that and a bag of greasy fries. The punks. Oh sure, all three of these thugs were riding some nice ten speed Schwinns, but they really were just punks after you strip away all that youthful testosterone and the Schwinns.
They sported the colors of, The Bad Ashes.., blue jean jackets with a picture of cigarette butt filled ashtrays on the backs.., a notorious gang to be sure. As they surrounded me on the road, the leader motioned me to pull off at a local greasy spoon. Not being one to run from trouble - I complied.
In the parking lot of, Le Shady Grady's Café, we all dismounted our rides, and I stood alone in the midst of these punk hooligans like Billy Jack in the Bored Losers. One of them called the leader by name.., "Jam Sammich.., maybe we shouldn't mess wit da old dude. I mean, a dude his age riding a Fisher Price trike has just gotta be tough.". The leader paused, eyed me cautiously, like sizing up something potentially meaner than he was..., "Yeah, Panky. Maybe you're right."
I stood my ground and sneered at em.., "I know what you're thinkin' punks; Did I pass wind once, twice or did I unload the whole gland at one time back on the road? You maybe thinking the chamber is empty.., BUT..,the real question is; do you feel lucky, punks? Well..., do ya?"
Jam Sammich, eyed his crew.., "I dont know about this. Looks like we just stirred up a stink bigger than us, boys." And with that he approached me cautiously, his hands wide.., "Dude, what say we settle this the old fashioned way. We pay you money to leave us alone and we leave you alone."
I thought it over. I really didn't want to open up a whole can of stink on these boys. Their screaming would be almost unbearable. "Deal. Pay up. And if you think about short changing me, I must warn you. I armed myself this morning with two cans of Bushes Best baked beans. I've had my eye on a cool, ice blue Fisher Price Big Wheel, that I been saving up for and your contributions will make my dream machine, come true."
Jam Sammich and Panky shelled out the entire contents of their wallets. The third one drew out his wallet but hesitated on extracting his money. "Butt Shank.., you better hand it over dude. This guy means business. We don't need a dual can of beans unleashed on us" said Jam Sammich, with a tear welling up.
Butt Shank, caved in and paid me off. To this day, even though its not even been a full 24 hours, they show respect and keep a distance. Yep - I'm bad, but when you ride a Fisher Price trike in public, you gotta be. Just wait till them boys see my Turbo Charged walker! Yeah buddy! I SO RAWK!
---
IF YOU HAVENT VOTED ON THE CAPTIONS - BE PATRIOTIC AND SCROLL DOWN TO THE LAST BLOG ENTRY AND VOTE! I know where you live! No I dont, but you do and that fact alone should scare you.
---
TERRI - I cant open your blog. Everytime I go to pull it up, it closes down my browser cold. I think its haunted or something.

---