---
A special young lady needs your help: Click for more information
---
* Click For My Playlist
* My Playlist 2
* That 70s Playlist
---
---
The Most Beautiful Song Ever
---
---
---
---
---
---
---

Featuring An All Star Cast!
- Guitar Haven
blues brutha's hang out
.
- Baked Chunk
- BlueMoon Cafe
- Not To Scale
- Greg's Writings / Photos
- Doctor Doug
- AbbyNormal
- Ginger's Dish
- Angels Nest
- Husbands Anon
- Herb Thiel
- Bellavita
- Rob & Pen
- Terri Terri Quite Contrary
- Parisian - our French friend and buddy
- Ms. Marti
- Angela McCaskill's Cafe
- The 101 Corridor
- Appalachian History
An awesome blog with a plethera of facinating information.
---
---
Shaloam Israel
- Words You Don't Know
- Jerusalem
- Hapshepsut
- A Jewish Perspective
- Only In Israel
- Israel Midnight Cafe
---
---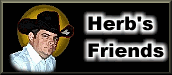 Herb and Friends spill their guts...
and you have to clean it up!
---
---
They had the power to bring change...
too bad it was just for a buck-fourty-nine
---
---
MY WISH LIST
Yes, you can buy my silence or just get me something because you've enjoyed my blog content and feel guilty for reading it for free. You can even buy me something if you hate my blog - your punishment in this way is more than I can stand. Or, you can just look through and wish along with me.
---
---
Monday, October 29, 2007
Job is still a no show. I sent word I'm having a tow truck haul him out of there because everyone is tired of waiting. Meanwhile - Daughter's next doctors appointment is Wednesday... and what the doctor has planned.., is anybody's guess. Do you sense a conspiracy here? I think grandson #2 (job) and the doctor are in cahoots! He was supposed to induce labor if Daughter had not had the little gum ball by last Thursday - then delayed it in the assumption Job would just give up and go with the program before Monday. HAH! So what is the pay off between these two? It cant be money - no demands for enormous sums have been made yet. Perhaps its power.., the knowing they can put things off. I'm just guessing here folks.
My mother goes into surgery around 8:am this morning for a hernia. Actually she's going in to have a hernia fixed, and not going in there to GET a hernia. Just FYI people. So keep her in your prayers - and the few of my atheist readers out there - you can send good vibes, head nods or whatever it is you folks do. I'm scared to ask.
I got a headache. A good sized one too. I would let you see it, but I'm told I cant afford to get anymore dust and lint in my brain, so - yeah - I know you feel cheated. Anyway - my crooning practice maybe on hold tonight. Maybe not. I dunno. I got a head ache for crying out loud. May Alfalfa, the King of Sing forgive my laziness.
In other news the Paranoids were after me today. They run in pairs ya know.(as Lisa pointed out to me). I dealt with them the usual way. They chased me for a while one way, till I got fed up, turned and ran after them. Then they would run away for a while, and .., back and forth till somebody gets tired and we all call for a truce.
OH! I got a couple of awards! I didn't get the graphics because every time I tried to pull up the website, my computer would lock up. For the record, I was awarded the following awards from
Beverly
;
THIS BLOG KICKS DONKEY BUTT award
BIG FAT KISS award.
I'm not sure why I won those awards. I guess I'm just special. Duh.., I'm special.., get it? You see.., some people who are not quite... <sigh> ..., never mind. My head hurts to much to pursue where this is going, and worse - you probably get it anyway and worse than that? potentially agree.
Miss Kitty - hope the today goes smoother for ya. **thumbs up and a Fonzie "ayyyyye" and a hug**
Posted at 11:57 pm - Scribbled out by
Daveman
the Cool
-Alternate Reality Speak-
---
In relation to my last entry - I went for the gold! I tried to slap up a "practice / test" song - but the online player/recorder at Bix was really screwy. The prompter was lagging and what with my bad timing - thats not a good thing. Something otherwise bad was made unbelievably worse LOL.
Needless to say - I didn't get anything put up. I'll have to check with the tech-boys or people on the message boards about the problem.
Anyway, right now its like 3:AM and I worked on that one song so long and so hard my throat is almost sore. I'll whine about it later. Excuse me. - but right now, I'm going to bed. And NO.., I'm not telling what song it was / is. Its a secret. hah!
Goodnight people - errr.., good morning or whatever - I'm going to bed.
IN The Mean Time.., Heres a REAL singer and really good friend
of mine, to entertain yew heathens. Yew kan all use a little class
in this here joint anyway. This here purty lady is Rhonda, singing
one of my favurt songs...,


Vote for me on Bix.com!
Posted at 03:02 am - Scribbled out by
Daveman
the Cool
-Alternate Reality Speak-
---
Sunday, October 28, 2007
Sangin' Just a Sangin' Oh oh oh!
The ol' back is feeling a bit better. Boy that was fun! Even my leg was numb, and burning.., yeeehaw! degenerative disc disease and sciatica is great stuff. I recommend it to anyone. Well.., not everyone. I still don't know why they call it a disease. Its not a disease but a condition. You'd think them medical boys would get their heads together and come up with something more like "BackMessedUpus" or something technical like that.
Anywho - I have been secretly (and close your eyes while you read this to keep it a secret) practicing my singing. Frankly I am amazed. Nay.., astounded how really well I suck. It is not the same voice I sang with some years ago. And my timing was much better. But now.., my timing and my pitch are way off. Even Alfalfa, the greatest crooner in the world, whose voice won over Darla and made many a young girl stand in their own piddle all GA-gah eyed - would be ashamed of my singing. Oh, to sing like the master of musical muse. ... musical muse??? ..., never mind... I just hope to one day to impress my own Darla if I ever find me one.
The point is, I'm not calling it quits. I had it before (the voice), and people liked it. Even my ex-wife Ditsy's deceased husband before he was deceased liked it.., up until he found out the demo tapes were my voice, then he conveniently lost the tape I made for my daughter. Never done nothing to the old beaner for him to feel that way toward me, but that was his problem. Anyway - he'd take the tape to parties and they had a good time dancing to the tunes. For whatever thats worth.
At one time I was even invited to the Lester Flatt Memorial park for a huge gospel sing fest, by a certain Pastor's daughter.., which I turned down. It was not about stage fright, I was starting to get the big head and despite the HUGE persona I use on this blog.., I am NOT., that big of an ego maniac. I didn't like the ego I was getting so I put the me in his place - LoL. In all likely hood I could have just as well been booed off stage - which a person would have to be REAAALLLY bad to have that happen at a "gospel" singing event.
My grandfather was by far my biggest fan. He drove people nuts (including me) playing my demo tape over and over and over and over and over and over and over and over...., and over again. Those of his visitors that appreciated it to start with I am sure began to hate it by the sheer repetition. But you know.., if nothing else.., I take comfort in knowing he was proudest of me for my singing.., and he played that tape up until he was too weak to load the tape deck.., about a month before he died of cancer. I miss that old man. But he's with Grandma now and no doubt he and Grandma are driving people nuts elsewhere with that blasted tape - LOL. In some section of heaven, I believe there may possibly be people trying to claw their way out!
ANYWAY - back on the subject. Don't get me wrong. I seriously doubt my voice was show stopper material.., well,. maybe it would stop the show., I don't know. But trust me, guys like Travis Tritt and Steven Tyler, were never in danger of being dethroned. My own estimation would be "an average" voice; at best - generic. Good, but not great.
So - once upon a time I could sing, not super great, but okay. That was then. Presently..., its like nearly torture to get my pipes back into working order. I haven't sung in something like 15 years or so. Not even so much as to sing along on the radio. I just hung up muh guns and muh badge, retired muh horse and that was it. I have had people want me to sing, and two of which hoping to do a duet with me on the Karaoke web sites. If they heard how off my timing is and how crappy my pitch control is - not to mention a slight rattling in my throat - they would change their minds real quick.
Now - Karaoke - you really don't have to be an ace singer. Its not so much about quality as it is having fun. Period! Even so, there are some really awesome singers that should be out there entertaining professionally - really talented folks. And there are some serious heavy weights out there competing in national karaoke sing offs. So yeah.., some people take it VERY serious as do their fans. Heck.., I'm a fan of quite a few really talented singers on Bix and Sing Snap myself.
"So Daveman - if its not so much about quality (in every case) and just having fun - go for it!" - AHEM! This applies to everyone else.. but me. LOL.. I'm practicing - I'm practicing. And practicing. Whether I get my pitch control and old singing voice/style back or not, I really got to work on my timing. If I get the timing down a little better - I'll stick my neck out and have some fun. Just don't expect much if it ever happens. I got a crappy mic, and have some issues with electronic clicking and hums interference - still working on those issues too.
OKAY! I am done tooting my own horn and smashing it again. Its time to practice some more. ***hands out noise cancelling ear plugs** - now.., if you hear what sounds like a squalling cat - its just me. Use the ear plugs for immediate relief. Don't rule out my ever joining in on the crooning fun.., Just don't expect Alfalfa quality. Aeight? Now who's the King of Sing? Allll-Falfa!
---
THE
BLIND CAPTION CONTEST
CONTINUES - BUT DEADLINE
HAS BEEN CHANGED TO FRIDAY NOVEMBER 2nd - ALSO -
ANOTHER KIND OF CONTEST IS MENTIONED AT END OF
NOTICE - Be a pal and vote on the "
Spooksville
" contest,
AND/OR your participation is good too
Posted at 06:44 pm - Scribbled out by
Daveman
the Cool
-Alternate Reality Speak-
---
My internal humor mechanism is broke right now. It seems the pain in my back is taking the fun right out of it. I'm not sure what I just said, but I am hoping it was profound. I will either update later today or tomorrow with something more substantial. Or at least mildly interesting. I hope. Hugs are appreciated. Hugs are really good medicine.
---
THE
BLIND CAPTION CONTEST
CONTINUES - BUT DEADLINE
HAS BEEN CHANGED TO FRIDAY NOVEMBER 2nd - ALSO -
ANOTHER KIND OF CONTEST IS MENTIONED AT END OF
NOTICE - Be a pal and vote on the "
Spooksville
" contest,
AND/OR your participation is good too.
Posted at 10:03 am - Scribbled out by
Daveman
the Cool
-Alternate Reality Speak-
---
Saturday, October 27, 2007
King of the Bums (the reprisal)
I woke up to the sound of chants outside my window.., "All Hail Dave! All Hail Dave! All Hail Dave!". So I get up, open the window and see something like 500 unwashed homeless people (they prefer the term Bums, thank you very much) carrying makeshift signs.
When I stuck my head out the window - a hush washed across them like an ocean. All of them dropped to one knee as what appeared to be their spokesman approached carrying a big stick shaped like a sword. As he neared the window I asked, "Dude.., what the he.., what the.. ?? Whats going on here?"
"I am Leonerd, your humble servant. We heard of your quest to be King of the Bums, and we want you to rule over us, sire." - said Leonerd.
"Get the heck out of my yard. What thuh.."?
"But Sire.., we wish you to be our king.., King David of the Bums. We only want you to rule over us. We will do whatever thy bidding be", came his moving but obviously mentally unbalanced plea.
"Yeah, yeah.., I get that. And as my first edict, 'get the heck out of my yard!'. I as your King am hereby ordering you out of my yard. Go stand in the street. Anywhere, just not in my yard."
Leonerd, turned to the people.., "Scum! You heard our King - MOVE IT!". The people rose in unison, shuffling onto the road.
So I went back to bed, and the phone rang. I panicked, ran and hid in the bathroom. The ringing would not stop - then realized it might be news on my daughter, so I answered the thing. My mistake! It was the neighbor. It seems my loyal subjects were having a party in their back yard and trying to catch said neighbor's cat for their celebratory feast, celebrating the fact they have found their King. My neighbor also said they named ME as their King and overload.., or something to that effect and so he expected me to do something about this fiasco.
I got dressed, went over to the neighbor's house. The bums were in the back yard lounging around all smacking their lips and rubbing their tummies next to a pile of bones.
"TELL ME YOU DID NOT EAT THE CAT!" - I yelled, in horror.
Leonard, approached, dropping to one knee. "No master.., we could not catch the cat. It was a dog, and we thank you for this bounty. It was quite good and much more filling than cat. Goes further too".
"I hope you know, you can go to jail for what you just did."
Leonard, rose to his feet, turned to the croud..., "Master has just offered us free room and board!" - to which the entirety of the gathering of the bums rose to their feet and started chanting, "All Hail King Dave! All Hail King Dave!"
So now, my loyal subjects are basking in a luxury suit at several police stations, but not before I told them.., "You have proved your loyalty - and when you get out of your temporary homes, I send you on a quest. I have a friend - a powerful wizard, in fact, named Herb who lives somewhere in the land called Colorado. You will seek him out and remain there till you hear from me."
~ King Daveman
LEGAL DISCLAIMER: The above story was a complete fabrication regardless of how totally believable it appeared to be. However, the part where I woke up, was true. I in fact did wake up this morning. No real animals were harmed for your entertainment. Any resemblance to actual bums (living or dead) depicted herein is considered pure coincidence and nothing more. If any portion of this story (save for the fact that I woke up this morning) is mistaken as a true account, I can arrange for professional counseling at persons expense, not mine. I'm not a wealthy man, you yo-yos.
THE
BLIND CAPTION CONTEST
CONTINUES - BUT DEADLINE
HAS BEEN CHANGED TO FRIDAY NOVEMBER 2nd - ALSO -
ANOTHER KIND OF CONTEST IS MENTIONED AT END OF
NOTICE - Be a pal and vote on the "Spooksville" contest,
AND/OR your participation is good too.
Posted at 11:22 am - Scribbled out by
Daveman
the Cool
-Alternate Reality Speak-
---